Proper care and cleaning of parasols
6 care tips for garden parasols in private or commercial use
Parasols are generally very easy to maintain. This article will give you an overview of how to care for and clean parasols so that you can enjoy them for as long as possible.
---
Tip 1: Close at the right time (!)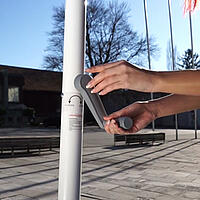 When it comes to caring for parasols, it is particularly important that you close and open them at the right times.

You should not keep the parasol closed for too long when it is damp, otherwise it will start to get mould on it. For this reason, always ensure the parasol is completely dry before closing it. If the weather forces you to close the parasol temporarily in a damp state, open the parasol again as soon as possible to let it dry.
In addition, it is crucial you close the parasol in windy conditions. Good parasols can easily withstand light wind, but in stormier weather the ribs can become damaged. Closed parasols should also be tied up so that the cover does not flap in the wind. Otherwise, the fabric may become worn over time.
Too much sun exposure can have a damaging effect on the fabric and the printing on it, especially if it is digital print. For this reason, you should pay attention to the lightfastness of the parasol; it is best to close the parasol, even on sunny days when it is not being used. If the fabric and print are no longer aesthetically pleasing, you can simply replace the cover with a new one. Get in touch as we will be happy to help you. You can find out more about lightfastness here. Tip 4 also includes a video on how to replace the fabric.
---
Tip 2: Cleaning the parasol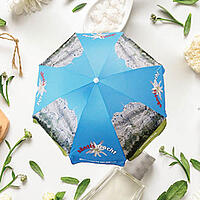 The frames of our parasols are made of easy-care materials and therefore hardly require any maintenance. However, it is worthwhile cleaning the parasol fabric as regularly as possible. Leaves, dust and insect dirt should be removed from time to time. Excrement from insects and birds in particular can have an aggressive effect on the fabric if it is not removed for a long period of time. Generally speaking, the fresher the stain, the easier it is to remove.
For light stains, cleaning with a damp cloth is often sufficient. Light stains on the surface can also be removed with a soft brush or a vacuum cleaner with a brush attachment.
For coarser stains, warm water and a soft sponge will help. Add some detergent to the water and rub the parasol surface. Then wait 15-20 minutes so that the detergent can take effect and dissolve the remaining dirt. Be sure to rinse the parasol thoroughly with a hose to remove all the detergent and dirt. At the end of the cleaning process, you should of course let the parasol dry before closing it again.
If there is mould on the parasol, you can try wiping it off. You should then coat the affected areas with an alcohol solution (available at a pharmacy). We recommend using less alcohol and wiping over the mouldy areas several times. It is best to prevent mould from forming in the first place by looking after it properly.
By the way: The cover can be removed for cleaning purposes, but this is rarely necessary.
---
Tip 3: Store correctly
The parasol should be stored in a dry room when you're not using it. Storing it outdoors in winter is not recommended. You should clean the parasol before storage and wrap it in a protective cover to prevent it from rotting. High-quality covers are water-repellent and made of polyester with a PU coating.
---
Tip 4: Repair options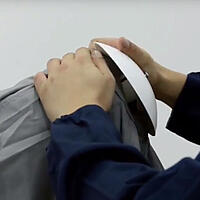 You can usually replace damaged covers or defective ribs yourself. In this explanatory video, we show you how to replace the cover. At Schirmmacher, we also offer a large selection of spare parts for the remaining parasol elements. Can't find a certain spare part in our shop or have questions about repairs? Get in touch!
---
Tip 5: Renew impregnation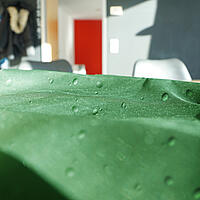 All parasols from Schirmmacher come impregnated. This makes the parasols highly dirt and water-repellent. However, this function can diminish somewhat with heavy wear and tear. In this case, we recommend you use an impregnation spray to reactivate the protection, which will make it easier to look after your parasol. When the water rolls off the fabric better, the parasol not only provides superior protection against light rain, less dirt also remains on the fabric and the parasol dries more quickly. If the repellent function can no longer be restored using an impregnation spray, the fabric can be completely replaced.
Please note: Parasols are not suitable for rain! Even with fresh impregnation, parasols will not be able to completely keep out heavy rain. If you are explicitly looking for rain protection for several people, you are probably better off with folding tents.
---
Tip 6: The basic requirement - A high-quality parasol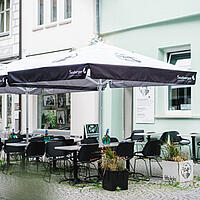 If you buy a cheap parasol, even the best care won't help. A high-quality cover and a stable frame are the prerequisites for the longevity of parasols and make caring for them much easier! All the parasols we offer are equipped with a polyester, impregnated cover. The frame is either made of aluminium, steel or wood. When choosing a model, it is important to consider what the parasol will be used for; it should be built accordingly.
Here you can find out what you should consider when buying parasols. If your parasol is to be used specifically in the catering trade, take a look at our special collection of catering parasols.
---
Summary
Never close your parasol when it is wet as this can lead to mould.
Remove leaves and insect dirt from time to time.
Parasol cleaning should never be done with aggressive cleaning agents. As a rule of thumb, the fresher the stain, the easier it is to remove.
Store your parasol in a dry room when not in use; a water-repellent cover is recommended.
If the impregnation of your umbrella wears off, an impregnation spray can help.
Depending on the intended use, care should be taken when choosing which model is best. The entire selection is available here.
This may also be of interest to you: Care tips for umbrellas
---