​​​​​Printing on custom transparent umbrellas & umbrellas with windows
Personalised clear umbrellas as unique promotional gifts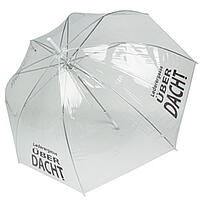 In our experience, clear umbrellas are a growing trend, not just because of their modern look, but also because they allow people to see what is around them and the raindrops falling over them. Turn your customer's rainy day into a enchanting experience with your branded umbrellas. This gift will definitely stand out from the crowd!
---
Design your transparent umbrella with us!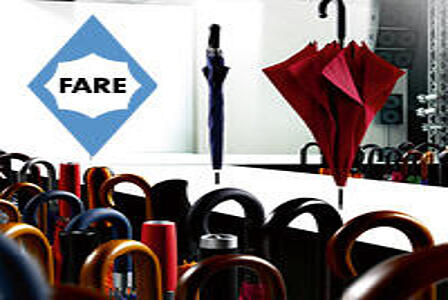 Fare - premium umbrella quality

You can't go wrong with our FARE brand transparent umbrellas. We offer quality umbrellas from the well-known brand at the best prices. If you want to find out more about FARE umbrellas ,click here.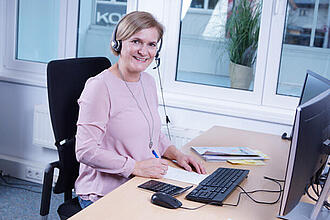 Personal support & free draft

If you have any questions about our transparent umbrellas, we will be glad to give you personal support as umbrellas experts! Please don't hesitate to contact us if you need help or advice regarding the design. Also, we would be happy to provide you with a free initial draft!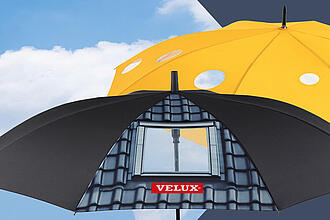 Individual & Special Production

If you have a specific design with a clear material in mind, please let us know! At Schirmmacher, it's possible to produce umbrellas with transparent cuts on many panels and in different shapes. This way, you can be as creative as you like with your design!
---
Why choose a transparent advertising umbrella?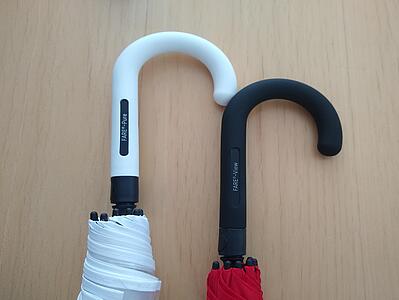 Great Quality
The transparent umbrellas from FARE have a high-quality polyethylene cover and fiberglass ribs, which make them highly windproof. Also they come with soft-touch handles and have a very convenient automatic opening feature.
Customizable details - gravery, doming & closing straps
The cover can of course be printed with your logo. However, if you want to customize your umbrella more in detail, you can attach a 3D sticker or make an engraving on the handle. The closing straps on our umbrellas can also be printed. These are small details that make for great promotional gifts!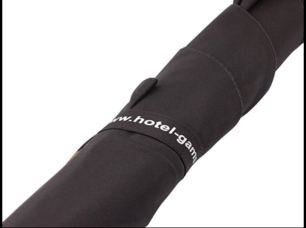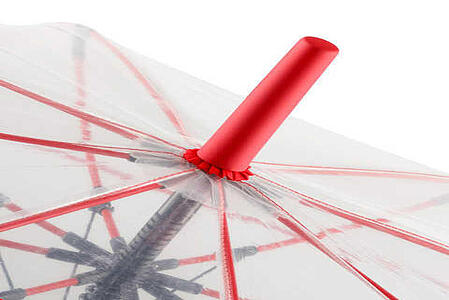 Modern Design
Coloured elements on umbrellas definitely play a key role in attracting public attention. That is why umbrellas should not only look traditional; but should also be stylish and modern. Accordingly, our transparent umbrella has a colourful frame and elements that make it eye-catching and attractive for a fashion-conscious target group.
Clear windows

If you're not sure about fully transparent umbrellas, then go for the one with a clear windows. They are big enough to allow users to see through it. And if you want to, you can also print on the window with a funny element like a beard.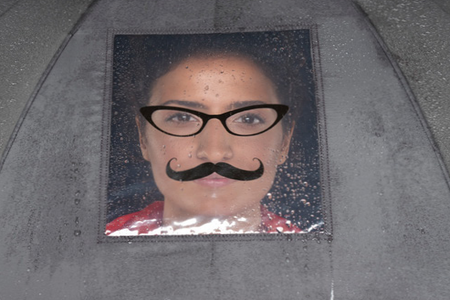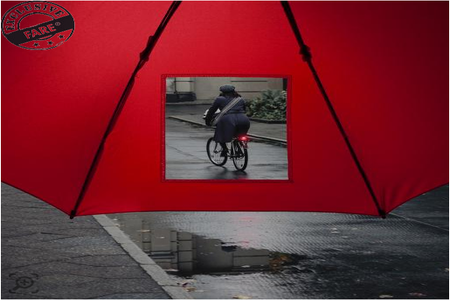 Design with practical benefits
Transparent umbrellas are not only popular because of their modern design; they are also very useful. For example, it's much easier to talk to someone else when it rains. You can also better observe the traffic and your surroundings. Above all, this makes them a fantastic gift for tourists who are out and about in crowded cities and don't want to miss any of the local sites.
---
More advice needed?
If you have questions about our transparent umbrellas, please contact our specialists at Schirmmacher.
We are very experienced with our products and will be glad to help you create a unique umbrella!