10 Tips for Purchasing Parasols
Find the perfect parasol
You will find a suitable parasol for every project. We show you what to consider before making your purchasing decision!
---
1. Small parasol, large parasol or cantilevel parasol?
When buying a parasol, we recommend that you first decide on the type of parasol suitable for your project.

Small parasol
Diameter: up to 2.50 metres
Opening system: hand
Frame: Mostly simple steel frame, can be dismantled into two parts
Advantage: lighter and more mobile than large parasols and can be dismantled into two parts
Disadvantage: smaller shaded area
Examples of use: small cafés, promotion stands or beach and swimming pools
Large parasol
Diameter: up to 5.50 metres
Opening system: cable push, push-up system or crank
Frame: aluminium
Advantage: robust and large parasols with sufficient space for tables
Disadvantage: heavier and less mobile than small parasols
Examples of use: restaurant gardens
Mobile large parasol
Diameter: up to 4 metres
Opening system: wire rope hoist or slider
Frame: Aluminium
Advantage: more flexible and mobile than large parasols due to two-part aluminium frame
Disadvantage: takes longer to put up and take down
Examples of use: events and functions
Cantilever parasol
Diameter: up to 4 metres
Opening system: crank opening system
Advantage: large parasols with a mast at the edge for more space under the canopy and easy use.
Disadvantage: due to the design and opening system, it is less mobile, heavier and more expensive than regular large parasols.
Examples of use: restaurants and cafés on busy promenades
---
2. The optimal opening system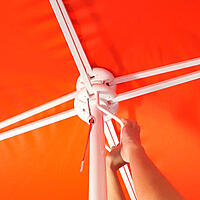 When deciding on an opening system, it depends on what the parasol will be used for and how often. Depending on the opening system, the required effort, comfort and respective table clearance are different. There are basically four different systems:
Hand

Wire rope hoist

Push-up (with telescopic function)

Crank opening (with telescopic function)
We explain how the different opening systems work and what their respective pros and cons are, together with video materials: Comparison of opening systems.
---
3. The right shape and size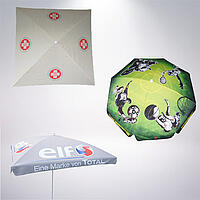 Small parasols are mainly available in a round shape, while large parasols are both round and square. In the case of large parasols, taste is the main deciding factor when choosing the shape of the parasol. However, two details should be taken into account when making your decision:
Square parasols have an advantage over round parasols. If you set up several square parasols next to each other, you will create a shaded area with almost no gaps.
There are both square and rectangular parasols. Rectangular parasols are more susceptible to wind than square ones, but they are ideal for certain areas of use (e.g. narrow alleys).
---
4. Valance and wind hood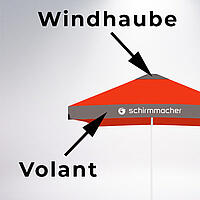 Every parasol is also available with an optional valance. Some parasols also have a wind hood on the canopy.
Valance: A valance offers the possibility of additional advertising on promotional parasols. This is particularly advantageous for large parasols because they are rarely visible from above when unfolded. Furthermore, a valance offers additional protection from the sun and somewhat conceals the metal frame. For fashion reasons, however, it is possible to decide against a valance, as parasols without a valance can appear more modern.
Wind hood: A storm hood provides additional wind stability and is particularly useful for parasols with a diameter of 3 metres or more.
---
5. Table clearance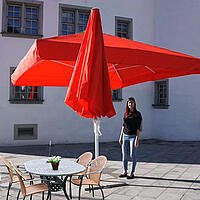 If you are planning to use them in combination with tables and other furniture, you should definitely also pay attention to table clearance when buying large parasols.
What does table clearance mean?
Table clearance means that a parasol can be opened or closed without having to remove tables or chairs underneath.
How do you achieve greater table clearance?
You can achieve maximum table clearance with parasols that have a telescopic function. The mast extends accordingly when closing and opening, so that the struts remain far enough up. All parasols with push-up or crank opening systems offer this practical function.
---
6. Printing on parasols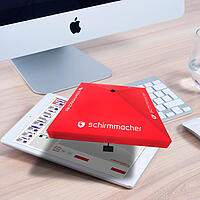 Parasols offer an excellent advertising space. In principle, all parasols can have printing over the entire surface or just in specific areas.
Creating the perfect promotional parasol is very simple. Just give us a rough description of your ideas and we will create a non-binding initial design for you. Here you will find various print examples for parasols.
Different printing techniques are used depending on the design and use of the parasol. Please take a look at our overview of printing techniques. We will also be happy to advise you personally.
If you would like to design a photo-realistic view of your parasol yourself, you can use our exclusive 3D designer.
---
7. Lightfastness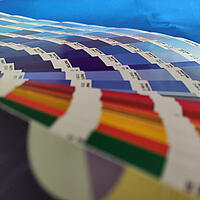 The fabric of parasols is usually exposed to sunlight for many hours. The demands on the colours in particular are very high. The fabric of parasols can be dyed or printed in different ways. Different colours are used depending on the printing technique, which withstand intensive UV radiation for different lengths of time.
We are happy to help you choose the right technique and colour. If required, you can also find further information on the subject of lightfastness on our homepage.
---
8. Parasol stand and other accessories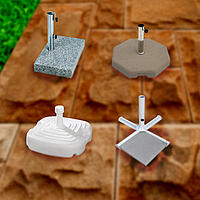 Of course, you should also pick out suitable accessories for your parasols. The most important parasol accessory is the stand. Please note that it must be sufficiently heavy, depending on the size of the parasol. For an easy calculation of the weight, we have created a calculator for parasol stands.
Parasol stand types
Water and sand stands: Filled with water and sand, only suitable for small parasols
Plate stands: Very stable, must be weighted down with stone plates
Concrete or granite stand: Very stable, but massive and heavy
Ground socket: Is permanently sunk into the ground and poured with concrete for maximum stability
Other accessories
Protective covers (for better protection during storage and transport)
Lighting (for use at night)
Radiant heater (for use in cooler weather)
Parasol wall (for protection against light wind and for combination with radiant heaters)
Rain gutters (for controlled water drainage when combining square parasols)
You will find all the accessories we have described in our parasol accessories.
---
9. Wind and rain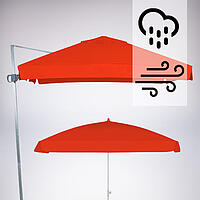 It goes without saying that the issue of wind and rain plays an important role when using parasols.
Wind: Parasols must always be wind-resistant, although there are great differences depending on the design. Therefore, it's crucial you choose the right model and a suitable parasol stand depending on where you plan to use it. Parasols are generally not designed for use in strong winds.
Rain: Parasols should be equipped with a high-quality polyester covering, which will make the parasol sufficiently waterproof to withstand light rain. Parasols are generally not intended for use in prolonged and heavy rain. Instead, we recommend gazebos as alternative coverings.
---
10. The right care
It's best to think about how you'll enjoy your parasol for as long as possible right from the start.
Buying a high-quality parasol is undoubtedly the most effective way of being able to use a parasol for as long as possible.
However, looking after the parasol correctly also has a decisive impact on its service life. The canopy fabric in particular is very susceptible to wear and tear, but can also be replaced with a new covering from us.
Looking after a parasol is not rocket science; there are just a few little things to keep in mind. For this reason, we recommend you read our tips for looking after parasols.
---
Conclusion
---