It's not difficult to find reasons to purchase a gazebo:
Extremely quick to put up (video)
Easy & compact to transport
Large advertising space
Protection against wind and weather
But which model is the right one for you? The following 10 points should help you make your decision!
---
1. The right size of tent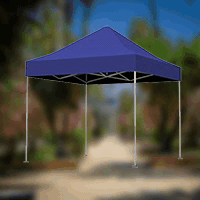 When speaking about size, we are mainly referring to the surface area (length and width). The height of gazebos can be adjusted in at least three stages with a button.
Small gazebo = up to 2m x 2m
(1-2 people recommended to put it up)

Medium gazebo = 3m x 3m to 4m x 4m
(2-3 people recommended to put it up)

Large gazebo = 5m x 5m to 4m x 8m
(3+ people recommended to put it up)

Please note that larger gazebos are slightly heavier due to their design.
Intended use: Small gazebos are particularly suitable for small presentations or marketing campaigns. Medium to large tents are ideal for covering several people (e.g. at festivals for protection against rain or sun). You can find more detailed information on the number of people in our size guide for gazebos.
Combine tents: It is possible to combine your gazebos using connectors. This can be very practical and make the tents even more versatile. Please have a look at our gazebo accessories.
---
2. Shape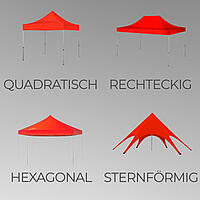 You can also choose from various options when it comes to the shape of the gazebo.
Square: Gazebos are usually square or rectangular, with the square shaped ones being the most versatile. The square one in a size of 3x3m is the best-selling variant.

Circular: If you would prefer a more rare shape, you might be interested in our hexagonal pop up gazebo as a circular option.

Star-shaped: If you want something really unusual, you could opt for a star-shaped tent.
---
3. Stability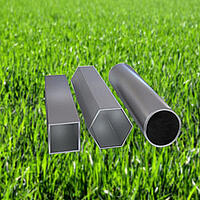 The larger the gazebo, the more often it is used and the more likely it is to be exposed to rain and wind, the more stable it should be. The stability of gazebos is mainly determined by two factors.
Stability factor 1: Number of edges
The number of edges on the tubes (profiles) is an essential stability feature. For this reason, the large gazebos are only available with 8-edge tubes. Otherwise, we use mainly 6-edge tubes.

In our experience, tents with 4-edge tubes are often not sufficiently stable to be used as promotional gazebos, which is why we hardly offer such models.
Stability factor 2: Material
The tent frame can be made of aluminium or steel. We recommend aluminium because it is much lighter and very stable if the walls are thick enough.

The only exception is the star-shaped tent. This consists of only one tube, so a very stable steel mast is ideal.
Note: Keep in mind that sturdier gazebos are usually heavier!
---
4. The right quality level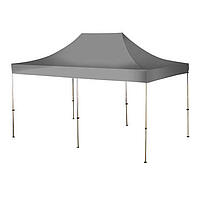 Schirmmacher offers four gazebo variants that differ from each other in their robustness and stability:
Basic: Available at an extremely low price. Only recommended for low quality requirements and less frequent use at smaller events.

Classic: Ideally suited for regular use and frequent putting up and taking down.

Pro: Even more stable than the Classic version thanks to reinforced struts. Sealed seams ensure improved rain protection. Comes with a free carry bag. Fire protection coating (B1) is possible.

Strong: Extremely stable frame with 8-edge tubes and sealed seams. Recommended for continuous use. Can be used in strong winds and snow without any problems. Optional fire protection coating and free carry bag.
If you would like to know the differences in more detail, take a look at our detailed comparison overview!
---
5. Sun, rain, wind...and fire?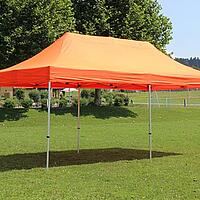 When properly selected and equipped, pop up gazebos can withstand all four elements.
Sun: If the gazebo is exposed to sunlight for many weeks of the year, the colour may change slightly depending on the printing technique used. Therefore, please feel free to describe to the experts at Schirmmacher what you would like to use the gazebo for so that the best colours are used.
Rain: Every gazebo can withstand light rain. In order to use the gazebo in prolonged and heavy rain, however, it is important that you have the seams sealed. If several gazebos are connected, rain gutters can be mounted in between.
Wind: In windy conditions, it is important that the gazebos are well anchored. Pegs, metal plates or sandbags can be used for this purpose. Depending on the quality level, the gazebo is correspondingly wind-stable. Unfortunately, general information about wind stability (km/h) cannot be given, as it always depends on the wind direction and gazebo structure. Side walls can provide additional wind protection for your guests.
Fire: If the gazebo is used indoors (e.g. in exhibition halls), it may have to comply with fire protection regulations. In this case, you should have your gazebos B1 coated.
---
6. Design options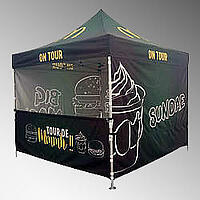 Gazebos are a very attractive advertising space simply because of their size. There are various ways to have a pop up gazebo printed.
Simple logo print: With a simple logo print, a logo is printed in the desired position once or even several times.
Full-surface print: Every pop up gazebo in our range can have printing all over it. A white fabric is used as the basis, which is printed using digital printing. This makes it possible to create a design with any background colour and with any motive or image!
Additional inside print: The inside of the gazebo can also have printing all over it. The fabric is doubled for this so that the print does not show through on the outside.
---
7. Additional side walls?
Side walls offer additional printable advertising space and protect your customers and guests from wind and rain.
A side wall can be attached to each side of the pop up gazebo. This way, the gazebo can be opened or closed on any number of sides.

Side walls are mounted in an incredibly flexible way using velcro. This means that the walls can be removed or replaced at any time.

There are many different variants. Each wall can be equipped with windows or doors or be completely closed.
---
8. Special tents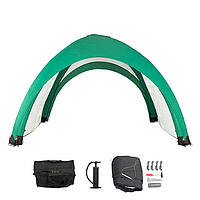 If you don't just want to distinguish yourself with a special print, you can also opt for one of the special tents that we've already mentioned.
Hexagonal pop up gazebo: This type of tent has a round (or hexagonal) shape, which is relatively rare for a gazebo.

Star-shaped tent: Star-shaped tents are particularly unusual! With only one pole in the middle and pegs for fastening to the ground, this model is easy to put up!

Inflatable tents: This inflatable type of tent not only stands out from the crowd; it is also super easy to transport!
---
9. Assembly and transport (accessories)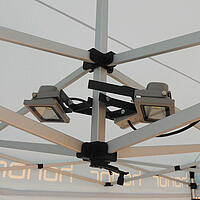 Accessories for increased functionality and comfort during assembly and transport:
Ropes and pegs: For additional fastening (already included with every gazebo)
Bag: For transport and storage (already included with the Pro and Strong versions)
Connectors: For any combination of tents from the same product range
Weights: For increased wind stability
Rollers: For easier mobility
The right accessories make gazebos even more flexible and easy to use. That's why we have a large selection of gazebo accessories on offer in our shop.
---
10. Extend tent functions (accessories)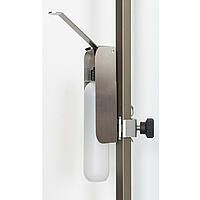 Accessories for additional extended gazebos functions:
Radiant heater: For use on cool nights or cold days
Lighting: Battery-operated, for use without a power source
Rain gutters: For use between interconnected gazebos
Disinfectant dispenser: For increased safety and hygiene
Flag holder: For attaching an advertising flag
Are the options described of interest to you? If so, you will also find suitable products in our gazebo accessories.
---
Conclusion