When looking for a suitable umbrella, the options are very diverse. This guide is designed to help you make the right decision.
---
1. Pocket umbrella or full-length umbrella?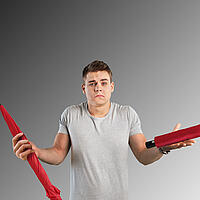 One of the most basic decisions is whether your umbrella should be a pocket umbrella or a full-length umbrella.
Pocket umbrellas are particularly light and practical due to their smaller size, which is beneficial because they can easily be taken anywhere.
Full-length umbrellas (or regular umbrellas) usually have a somewhat larger canopy and thus offer better protection against the rain. They are more robust and less likely to get lost due to their size.
Our experience: Pocket umbrellas are highly practical, yet people often decide in favour of full-length umbrellas due to their enhanced functionality and seemingly better quality.
---
2. Frame material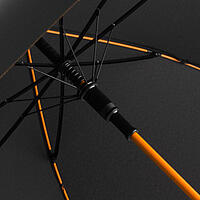 The frame is the most important aspect when it comes to the weight and stability of the umbrella.
There are typically four variants:
1. Steel: The most commonly used material. Considered stable and relatively cheap but is usually somewhat heavier than more modern materials.
2. Wood: Wooden frames have a traditional and classic look. However, they are more sensitive than other materials.
3. Fiberglass: Frames made of fiberglass are characterised by a lower weight and increased wind stability, as the material is wind resistant.
4. Aluminium: Aluminium frames are light but ensure high wind stability. In addition, aluminium umbrellas look very modern.
---
3. Fabric – shape and material
You can also think about the choice of shape and material for the canopy.

Material: Polyester is less shiny than nylon, thus appearing to be slightly higher quality. However, both materials are on a par in terms of their water-repellent performance. Cotton is only used for traditional umbrellas because it is somewhat heavier and less water-repellent.
Shape: The fabric of the umbrella is typically stretched out in a round shape. There are also more specialised shapes, such as square umbrellas or heart-shaped umbrella canopies. However, the round version has the largest surface area and therefore offers the best rain protection.
---
4. Size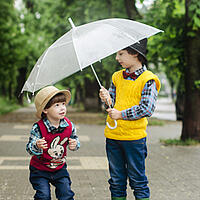 The larger the canopy, the more protected you are from the rain. If it is large enough, there is room for an additional person underneath.
Diameter 100 to 105 cm = Standard (for one person)

Diameter 110 to 120 cm = Mid-size (for one person or two smaller people)

Diameter 130 to 140 cm = Large (for two people)

Don't forget that a canopy will be heavier the larger it is.
---
5. Opening systems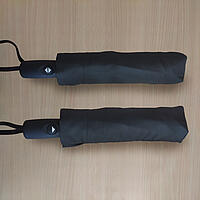 There are both automatic and manual opening systems with various pros and cons.
Manual: No frills! The manual opening method is cheap and has a great weight advantage, especially for pocket umbrellas. For full-length umbrellas, the difference in weight is much smaller.
Semi-automatic: Opening an umbrella at the push of a button is very practical. That's why the automatic function comes as standard for full-length umbrellas. However, you have to close the umbrella manually.
Fully automatic: Only pocket umbrellas enjoy fully automatic opening and closing at the touch of a button. In general, you need a little more force to close fully automatic umbrellas, as a spring has to be tensioned in the mechanism. These umbrellas are considerably heavier than semi-automatic ones.
---
6. The right handle
Different handles can drastically alter what an umbrella looks like. In addition, umbrellas perform crucial functions and can significantly increase how comfortable they are to use. Both the material and shape of the handle are particularly important.

The material
Wooden handle: Gives a classic, traditional impression and is more sustainable. Wooden handles are mainly found on full-length umbrellas.
Plastic or rubber handle: Are available in all shapes, colours and variants. Plastic handles general feel good in the hand.
Aluminium handle: Looks very modern. A small disadvantage is that it can feel cold at first.
Shape and size
Shape: If the umbrella has a hook handle, it takes up a little more space than an umbrella with a straight handle. However, it can be easily hung up to dry.

Size: When it comes to size, it is important to note that women prefer smaller handles than men. However, the handle should never be too small, otherwise the umbrella would no longer be comfortable to carry.
---
7. Adapt the design to the target group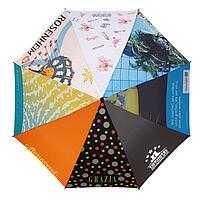 Promotional umbrellas are among the most popular promotional items out there. When it comes to design, the possibilities for personalisation are diverse. Here are our three recommendations:
1. Attention to detail: Think about all the design options. The more detailed the design, the more individual and lovingly crafted the umbrella will appear to the user.

2. Customer needs: The design must of course take into account the client's image and branding. However, you should always prioritise the needs of the umbrella users!

3. Model selection: Pick a suitable model for your target group. Give enough thought to the effect you want to achieve with the umbrella. Depending on the target group and the message to be conveyed, a classic, modern, sporty, stylish or particularly unusual umbrella may be the best choice.
---
8. Safety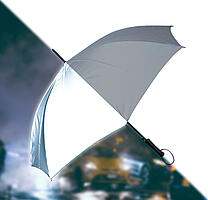 You should also think about safety aspects when choosing an umbrella. Since umbrellas are often used at night and in poor visibility, reflective umbrellas are especially useful when it comes to safety.
There are umbrellas with small reflector elements as well as fully reflective umbrellas for maximum visibility at night and in fog.
A lamp built into the handle can also prove very useful in many situations.
---
9. Unusual & innovative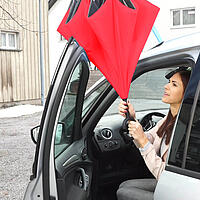 If you want to surprise your target group, you can also opt for innovative and unusual products. This will definitely make them remember you for a long time. For example:
Umbrellas that change colour when wet

Reverse-opening umbrellas

Square umbrellas

Umbrellas with LED-lamps and gift boxes in the handle
Have we kindled your curiosity? Then take a closer look at our original umbrellas!
---
10. Sustainability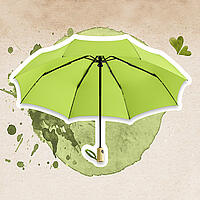 As with all commodities, you should think about sustainability when it comes to umbrellas. We have three recommendations for you:
1. Quality: We recommend you prioritise quality above everything else. High-quality umbrellas are more durable, benefiting both owners and the environment.
2. Sustainable material: Umbrellas that have been specially designed and produced in an ecologically sensible manner, e.g. from recycled materials and rapidly renewable types of wood, are also sustainable.
3. Short transport routes: We recommend umbrellas produced in Europe. Not only are production standards better; the shorter transport routes also have a positive impact on the environment.
More about sustainable umbrellas
---