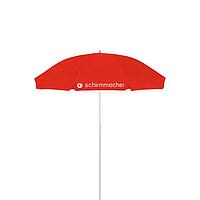 Small parasols are parasols up to 2 meters in diameter. They're used for all kinds of events and are available in various designs. The following section describes the differences between the small parasols.
Shape
Small parasols are round or square. Round parasols are equipped with 8 panels, while square ones are usually equipped with 4 panels. All models can be made either with or without valance. The valance has a significant effect on the appearance: parasols without valance look more modern, whereas they look more classic with valance.
Size
There are both round and square parasols available in different sizes. For use at events, a diameter of 180cm is used for round parasols and 125cm for square parasols.
Function
All small parasols consist of a sturdy frame with a steel pole and high-quality polyester cover. The pole always comes in two parts, which makes the parasols particularly mobile. Individual models have a bending mechanism, which can be beneficial for targeted shade cover.
Printable
Small parasols are perfect for advertising space. All models can be printed flexibly and individually as promotional parasols. For small orders, we use digital printing, whereas for large orders we use flat printing. Coloured areas according to Pantone guidelines or the printing of photo designs is possible for all parasols without any problems.
Made in EU
All parasols from Schirmmacher are manufactured in the EU. This ensures high quality, small minimum quantities and short delivery times.
Accessories
The most important accessory is the right stand. There are various options depending on the intended use. Filling stands (fillable with sand or water) are typically chosen, but folding stands also impress with their practicality. Table clamps are also available for special mounts (e.g. on a fixed table).
Alternatives
As an alternative, large parasols, market parasols or gazebos can be used. Large parasols differ from small parasols in size, frame construction and the opening system. Pop up gazebos are an interesting and practical alternative to parasols, especially for events.
Show all the products