Printing techniques for parasols
There are different textile printing techniques for printing on parasols. We use certain printing techniques depending on the design, product, number of units and what the parasol will be used for. In order to get the best out of every promotional parasol project, Schirmmacher offers a variety of printing techniques.
Digital printing
Using an inkjet printer, special pigment inks are printed directly onto the textile and then permanently fixed using heat.
Advantages:
Designs in photo quality
Colour gradients are possible
Printing possible even for small quantities
The fabric remains pleasantly soft
High wash resistance
Can be used as all-over printing
Disadvantages:
Printing on coloured fabrics is problematic
Lightfastness lower than screen printing
The printing method is not effective for large quantities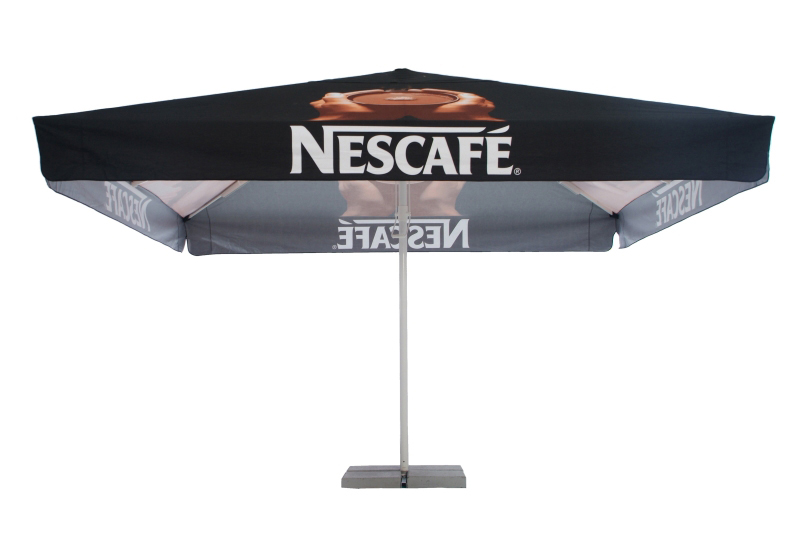 Hand screen printing
The requested print design is first printed onto a film (transparent foil). The film is then placed on a printing screen with a polymer layer. The film and screen are then irradiated with UV light. This hardens the exposed areas of the fabric and makes them impermeable to ink, while the unexposed areas can simply be washed out.
The resulting screen is placed like a stencil on the fabric to be printed. With a so-called squeegee, the ink can now be brushed through the permeable areas of the screen, transferring the logo directly onto the fabric.
Advantages:
Can be used for small quantities
High lightfastness
Long durability
Relatively high colour fidelity
Ideally suited for most logo designs
Disadvantages:
Only possible on stock fabrics
Colour gradients are problematic
No photo printing possible
Can only be used to print on certain areas
Other printing techniques for large orders

It may make sense to resort to more specialised printing techniques once a certain number of parasols is reached. We will inform you about this should it affect you. One example of this is machine flat printing.
Machine flat printing
Machine flat printing is a screen printing process. The technique is based on the same principle as the hand screen printing already mentioned. In contrast to hand screen printing, machine processing allows us to implement colour gradients and photo designs.
Advantages:
Efficient for large quantities
High lightfastness
Relatively high colour fidelity
Flexible design options
Can be used as all-over printing
Disadvantages:
Expensive screening costs and therefore not efficient for small quantities
Poorer level of detail than digital printing