Show all the products
Umbrella printing examples
All-over printing on the outside: Print image or pattern designs on individual panels or across panels. Your creativity knows no bounds!
All-over printing on the inside: All umbrellas can have printing on the inside as well. With double covering, the inside and outside can be designed differently. This looks great!
Selection by origin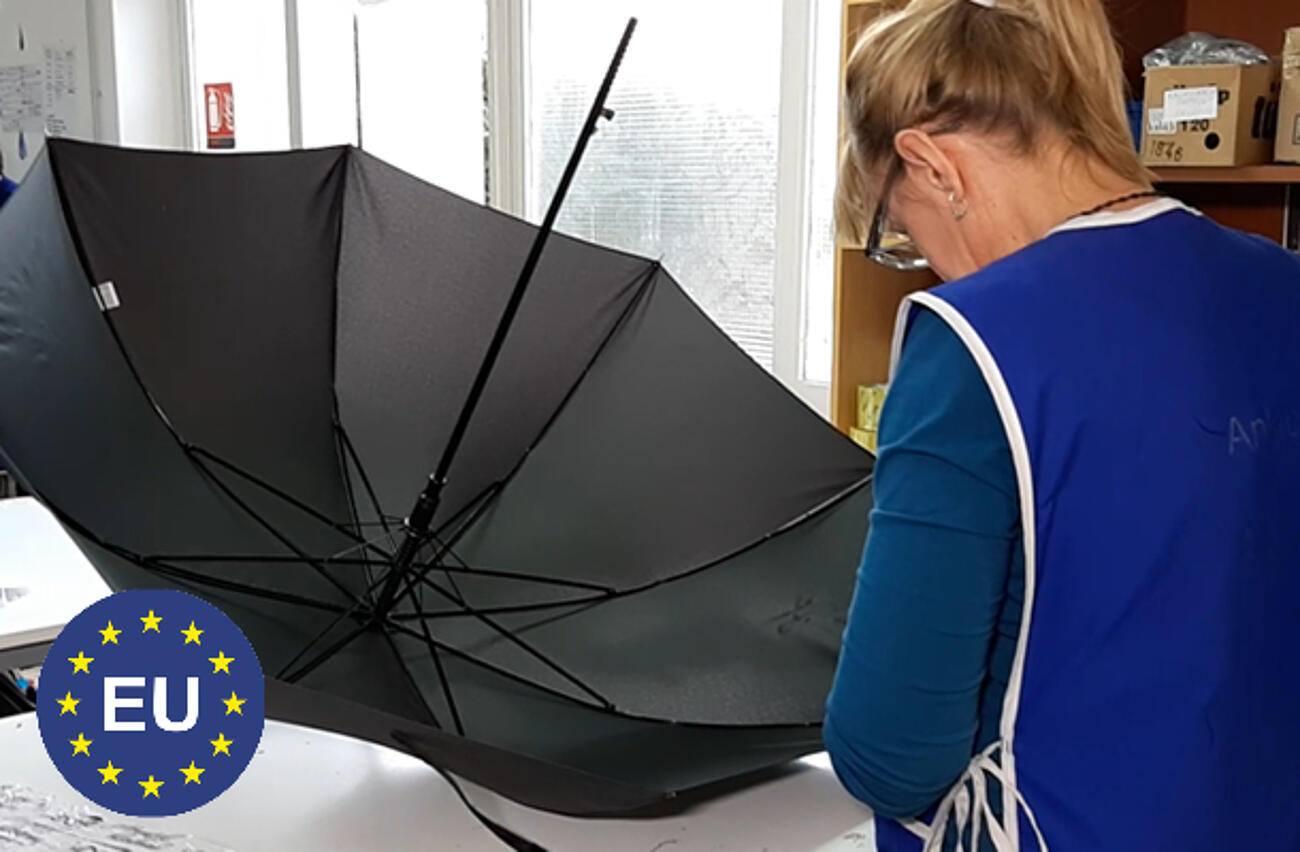 Made in EU
Umbrellas manufactured and printed in Europe
✓ Flexible design options
✓ Short delivery times
✓ Minimum order quantity 50 items
✓ Outstanding quality
Made in Asia
Umbrellas manufactured and printed in Asia
✓ Flexible design options
✓ Wide range of umbrellas
✓ Minimum order quantity 500 units
✓ Affordable prices
Further information
All-over print umbrellas
Do you want to catch people's attention with your message? If so, you should let off some creative steam on a large surface! You'll find a wide range in our catalogue! We have many years of experience designing parasols, so we'll be happy to give you a helping hand! As an alternative to all-over print umbrellas, you can also print original umbrellas - these models are also guaranteed to be eye-catchers, with which you can attract people's attention at any time of the day and in any environment.
Printing umbrellas - a great idea with lots of added value!
Everyone could do with an umbrella - all the more so if they are beautiful and creative!
Do you want to make your company or brand better known? Umbrellas as promotional gifts carry your logo out into the world. By using an umbrella, you not only inspire your customers; you'll be remembered for a long time to come! What's more, your logo or design is carried through the streets as free outdoor advertising, which increases your recognition value.

Do you also want to inspire people specifically about their favourite place and always remind them of the great time they had there? City parasols are not widespread and very popular without good reason. Whether a city map or photo, all-over print umbrellas with city designs are an eye-catcher and send owners as well as other passers-by to unforgettable places in their thoughts.

Are you still looking for a unique gift for your family, circle of friends, club or colleagues? Then choose the perfect image and display it on the umbrella! Photo umbrellas are guaranteed to be unique, practical and popular. Every time you use them, your loved ones will think of you and enjoy their unique umbrella, even in rainy weather.
Why you can trust Schirmmacher!
Our special offer: we help design your very own fully printed umbrellas free of charge upon request. Whether photo umbrellas, city umbrellas, individual artwork or your own logo - we can offer all-over photo printing without any problems starting from small quantities. Unique printing options, many years of experience and free delivery!
We also produce complex printed umbrellas at favourable prices. Even from small minimum quantities, we conjure up your favourite design on an umbrella via digital transfer printing or screen printing. Special designs are also possible on request. We print your product in Europe or Asia, depending on the quantity, delivery time and price. Excellent quality is always guaranteed. Bad weather does not exist for us - just the wrong equipment!
Any further requests?