Umbrellas as promotional items
10 good reasons why umbrellas are popular promotional items

There are many good reasons why printed umbrellas are attractive as promotional items. Below we summarise some of the most important points that make promotional umbrellas stand out from many other promotional items.

Go to the products
---
1. Value – Quality promotional items at a great price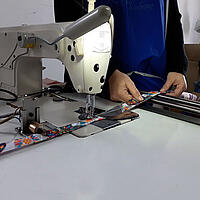 An umbrella is considered a high-quality promotional gift because of its size, material properties and mechanics. Printed umbrellas can be purchased very affordably and, unlike many other promotional gifts, promotional umbrellas stand out from the crowd. You'll find a selection of quality umbrellas at particularly affordable prices here.
---
2. Usability – everyone can use an umbrella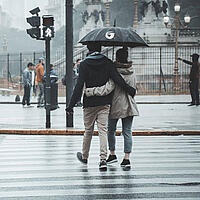 Umbrellas as promotional items reach a wide target group. Almost everyone could do with an umbrella in their day-to-day lives, so this works completely independently of any target group and can be gladly given away when not needed. Nevertheless, umbrellas can also be very well adapted to a specific target group, as they can be individually designed with many detail options (such as a handle engraving), which make the umbrella appear to be better quality and lovingly designed.
---
3. Versatile applications
As a gift, umbrellas are ideal for potential or existing customers, but they're also popular as a thank you gift from employees as well as club and organisation members. They can be given away regularly, but also distributed specifically at certain events such as trade fairs or concerts.
Alternatively, a designed umbrella can also be offered in a shop, especially if it has an attractive design or enough people can identify with the advertising message and brand.
---
4. Durability – umbrellas as long-term promotional items
Umbrellas are extremely durable everyday objects and therefore last longer than many other promotional items. At the very most, the recipient gives away, lends or loses their umbrella.
However, this characteristic of being passed on is anything but a disadvantage for the advertiser.
---
5. Customised promotional item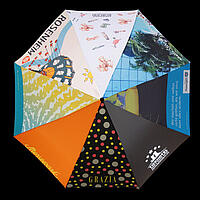 Our umbrellas are not off-the-sheet products. There's a wide range of models and variants, so that the perfect item can be developed for every purpose and every company.
There's a wide range of different types of pocket umbrellas and walking umbrellas to choose from, and there are also particularly original and innovative models, which can make a promotional umbrella stand out even further from other umbrellas. Examples include umbrellas with built-in lamps, reflective umbrellas, umbrellas that change colour when wet or umbrellas that close in reverse.
---
6. Visibility – attractive promotional space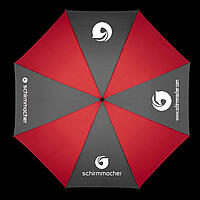 Due to the large advertising space, the logo is impressively displayed and the umbrella becomes a mobile outdoor advertisement when used, whereby the advertising message also reaches other people at direct eye level.
For example, t-shirts also work well as outdoor advertising, but unlike umbrellas, these usually require an existing higher level of brand identification on the part of the customer or employee to be worn in public.
---
7. Gratitude – positive impact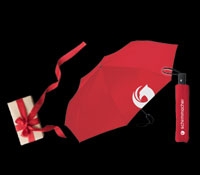 Promotional gifts should trigger a feeling of gratitude in customers. An umbrella ensures this in two ways: the recipient is not only grateful when they receive it, but also every time they use it to protect themselves from the rain.
Objects are perceived as even more valuable as soon as you own them (endowment effect). Ideally, the umbrella, together with its promotional message, will gain even greater significance for the recipient as a result of this effect. It also has a positive impact if a promotional message or logo is seen regularly, as this makes people trust the brand more and more (carpenter effect).
---
8. Appealing product with tradition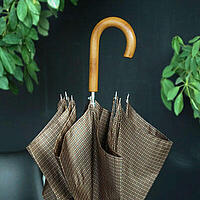 Since umbrellas are everyday items steeped in tradition, they seem all the more appealing to many as a gift. Manufacturing umbrellas has a long tradition as a craft, dating back to the 17th century.
If appropriate for a target group, the traditional character of umbrellas can be further accentuated by selecting the umbrella accordingly. For example, you could opt for a classic walking umbrella with a wooden handle.
---
9. Stylistic product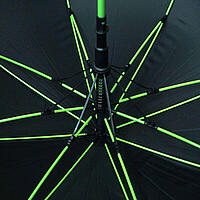 Umbrellas are not only particularly practical and traditional; they can also be designed in a stylish and modern manner.
Depending on the style, there are classic, sporty or fancy, eye-catching models that can appeal especially well to fashion-conscious target groups.
---
10. Easy to procure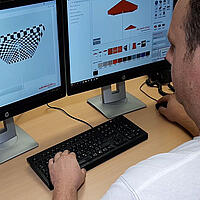 Despite the versatility, the procurement of promotional umbrellas is quite simple. There is a suitable model for every requirement and a suitable printing technique for every design. All you need is a rough idea of the product and the experts at Schirmmacher will make you a proposal.
This is quick and free of charge. If the supplied print data is not optimal, it can be processed for a small fee. This way, everyone can get to their bespoke product in just a few steps.
---
Conclusion
Umbrellas offer many advantages over other promotional items and leave a lasting impression. Designing and printing your own umbrellas, even for small order quantities, isn't as complicated and expensive as you might think.
Other articles explain how to get your own umbrella quickly and easily in just a few steps, and what you need to bear in mind when choosing the design and umbrella. This way, you won't lose track of the many design options and models and will end up with the perfect umbrella.
---